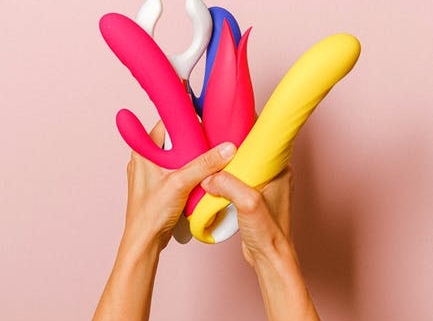 Adult Novelty Store: How To Find the Perfect Toy for Couples
41% of American people enjoy using sex toys. Getting the right toy can improve intimacy and make sex and masturbation more enjoyable. So, finding the right adult novelty store for your favorite sex toys is important.
If you've been searching for "sex stores near me," then you're in luck. There are plenty of ways to find an adult store in Dallas that stock the right sex toys to fulfill all your needs.
For more tips on finding your next favorite sex toy, check out the suggestions below.
Decide What You and Your Partner Like in Bed
If you're buying a sex toy to use with your partner, make sure you know what you both like in bed. You might like one sensation, while they might like something completely different. You both must come to a mutual agreement about what you want to try and what will be pleasurable for you both.
When it comes to sex toy experience, one of you may have more than the other. If there is a more experienced partner, make sure they introduce sex toys gently.
If You're New to Sex Toys, Start Small
You don't have to walk into your local adult store and immediately picked the biggest, loudest, most vibration-y toy you can find. There's a lot to choose from when it comes to sex toys, so don't be afraid to start with something simple and work your way up when you're more comfortable.
Getting used to sex toys is a lot like having sex itself. In the beginning, you may feel nervous and even a little uncomfortable. But, with experience, you'll come to enjoy your new toys and be able to try out new ones when you feel ready.
Don't be Afraid to Ask Questions
At New Fine Arts, you can ask any questions you want! Those working for adult novelty stores understand the world of sex toys, and that some people may be nervous when trying them out for the first time. The staff at New Fine Arts love questions and will be happy to answer any query.
Don't be shy about asking how a sex toy works or asking for recommendations. This is what the staff who work at your chosen adult store are there for. No question is too big, small, or strange, so feel free to ask anything you're curious about.
Be Open to Trying Something Different
A big part of using sex toys is being open to a new experience. This, of course, does not mean you have to immediately buy the most complex toy in the shop. However, you should keep an open mind about trying toys that may introduce you to new sensations and experiences in the bedroom.
Make Sure You Communicate With Your Partner
If you and your partner are searching "adult store near me" online, then you should have already had an open conversation about sex toy use. This doesn't need to be a super serious conversation. However, it's important to know exactly what you and your partner are both comfortable with before trying out sex toys.
Keep in mind that some people may feel shyer and less confident about using a sex toy. However, this doesn't mean there isn't a toy out there for them! You can discuss ideas with your partner to get a sense of what you both might like to try.
Of course, if you're stuck, you can always ask the experts! The staff at New Fine Arts will be happy to recommend a toy for you that will suit your needs.
A Few Ideas to Get You Started
Stuck wondering which sex toy is right for you? New Fine Arts stocks a huge range of fun and flirty toys for you to enjoy. Here are some examples to help get you started.
Dildos
Most people will have an idea of what a dildo is. If not, it's a sex toy that emulates an erect penis. It is a very common toy and comes in a variety of shapes and sizes to suit any user.
Vibrators
Vibrators are another common sex toy. They gently buzz and are usually placed on the genitals for sexual stimulation. Vibrators generally have a variety of settings that increase their buzz depending on what you or your partner want.
Cock Rings
Cock rings are circular rings that come in various widths and sizes. They are commonly worn at the base of the penis and are designed to make erections last longer by restricting blood flow. This may sound a little extreme, however, a cock ring shouldn't cause any discomfort and can make sex last longer, increasing pleasure for both partners.
Vibrating Panties
Vibrating panties are underwear with a vibrator attached inside. The vibrator is usually small and rests against the clitoris to increase arousal and stimulation. You can find vibrating panties in a range of sizes, and they generally don't look bulky if they're worn underneath trousers or skirts.
Massagers
Massagers are somewhat similar to vibrators in that they provide stimulation of the genitals through movement. Massagers are sometimes larger than vibrators, as they aim to massage the entire vagina and not just the clitoris.
Bondage Gear
Bondage gear covers a whole range of specific toys. It is most commonly used to consensually tie up your partner, often at the wrists and ankles. Many people use it for dominant/submissive sex and sex games involving control.
With any sex toy, including bondage gear, it is important to use safe words and be very open with your partner about how comfortable you feel. This makes the experience safe, consensual, and more pleasurable for everyone involved.
New Fine Arts Is the Top Adult Novelty Store Around
An adult novelty store is a place of sexual freedom and open communication about sex. You should never feel nervous or embarrassed for asking questions about sex toys. In a sex store, the employees will make you feel at ease and happily answer any questions.
To make finding your new favorite sex toy super simple, check out our page. At New Fine Arts, we want sex to be fun and enjoyable for everyone, which is why we stock everything you need for a more pleasurable bedroom experience.
https://newfinearts.com/wp-content/uploads/2022/12/adult-novelty-toys.jpg
650
433
New Fine Arts
https://newfinearts.com/wp-content/uploads/2020/07/NewFineArts-Logo.png
New Fine Arts
2022-12-30 06:24:07
2022-12-22 11:26:26
Adult Novelty Store: How To Find the Perfect Toy for Couples