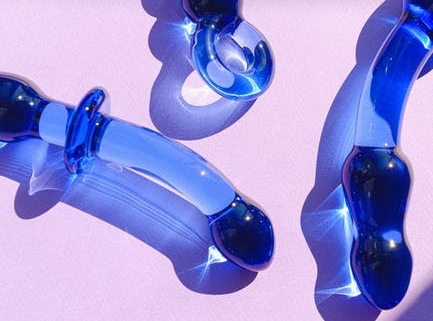 How to Introduce Using Anal Plugs Into Your Sex Play
Have you been curious about anal play lately? Are you ready to explore anal plugs for increased pleasure? Anal play can be a great way to take things to a new level in the bedroom whether you're looking to have fun with your partner or yourself.
Although you know you're curious about using an anal plug and want to explore more into the anal play world, you're not sure where to begin. How will you know which butt plug to buy? How can you ensure you use it safely?
What situations are ideal for anal plug use? We know you have questions, and we're here to answer all of them! In the guide below, you'll find anal play advice and tips for using anal plugs to ensure you have a sensational experience each and every time.
Continue reading to get things started!
When to Use Anal Plugs
There are many different situations where adding an anal plug is lots of fun! Adding anal play into your routine is one of the best ways to spice things up a bit for everyone involved. The best time to use your anal plug is when it feels right for you.
Here are a few good examples of when using a butt plug could be a lot of fun.
A Night Out
Have you been looking for ways to make things more interesting during your date nights? Now is the time to introduce anal plugs! You can insert an anal plug before heading out for date night to help prepare you for anal play with your partner later in the night.
You can even make your partner aware of it so the two of you become mentally stimulated by it as well. Some butt plugs even come with a vibrating feature and a remote that allows your partner to take full control over you during date night.
Oral Sex
A butt plug is also a great way to take oral sex to a whole new level. Butt plugs help increase stimulation for those receiving and those giving have something extra to have fun with. For those that struggle with finding their pleasure in oral sex, an anal plug could be just the thing they need to take them over the edge.
Power Role Play
Do you and your partner enjoy power role play? Taking turns giving someone the power in the bedroom can help keep things interesting. Anal plugs are a good way to take power role play even further.
Power play is lots of fun, but remember it must always be consensual and negotiable, so be sure to speak with your partner about their limits before beginning. Then, the person who has the power can give rules to the other person. Rules might include how long they must wear the butt plug or things to do while wearing it.
This helps stimulate both the body and the mind.
Sensation Play
Sensation play like electrostimulation, spanking, wax, flogging, and more is already a lot of fun. When you add anal plugs into the mix, you take things to a new level of play. Use your butt plugs while engaging in sensation play and watch how heightened your stimulation becomes.
If you're looking for ways to intensify the sensations you feel, then a butt plug is the way to go.
Intercourse
Don't forget that anal plugs are great additions to regular intercourse as well. Adding anal plugs to intercourse can help create the illusion of a third partner without the need for another person. Plus, the added pressure will make things feel better for both the person using the plug and their partner as well.
How To Choose an Anal Plug
Do keep in mind that there are a few different anal plugs to consider before buying your first one. If you're new to using anal plugs, then it could be best to start with something that's not too big, easy to use, and easy to clean as well. Here's what you need to know.
Safe and Easy to Clean
If you're new to anal play, then it's best to start with something small and gradually work your way up. You don't want to hurt yourself. You want to increase pleasure.
It's also important to use an anal plug that's easy to clean. Metal, glass, and silicone anal plugs can easily be sterilized in boiling water or in the dishwasher as long as it doesn't have a vibrating feature.
Flared Bases
Make sure the only toys you use for anal play have flared bases. A flared base prevents the toy from being lost inside of your body, resulting in a possible trip to the ER. Even if a toy resembles an anal plug, avoid using it if it doesn't have a flared base.
Type of Functions
Some anal plugs do much more than simply plug your butt. Some anal plugs have a variety of different functions, such as vibrating, weighted, ribbed, and rimming. Take the time to look into all your options before making a decision on which kind to buy.
Anal Plug Tips
Now you know when to use anal plugs and how to choose the right one for you, but what are some anal plug tips you should know about? To ensure you have a good experience each and every time you use your anal plug, here are some things you should know.
Use Lubricant
Always use a lubricant. There are several different types of lubricants to consider so know what type of material your anal plug is made of and what type of lubricant is best for it.
Wash Immediately After Use
Each time you use your anal plug, be sure to wash it well. Follow the care instructions for the specific anal plug you purchased. Wash before and after for best results and dry thoroughly.
Anal Plugs Are a Great Addition to the Bedroom
If you're looking for ways to spice things up in the bedroom, anal plugs are your answer. Use all of the helpful information given in this guide above to have a sensationally amazing anal play experience.
When you're ready to start shopping, Find a Fine New Arts location near you. We not only specialize in toys and novelties, but we also specialize in lingerie and apparel, and more!
https://newfinearts.com/wp-content/uploads/2021/11/anal-plugs.jpeg
650
433
New Fine Arts
https://newfinearts.com/wp-content/uploads/2020/07/NewFineArts-Logo.png
New Fine Arts
2021-11-25 10:00:09
2021-11-05 10:02:10
How to Introduce Using Anal Plugs Into Your Sex Play